bytemaster

will be present at the logistics fair in Barcelona
bytemaster , technological partner for the transport and logistics sector, will participate in the International Logistics Salon of Barcelona in its edition this year to present _b first , the reference ERP for logistic operators in Spain.
The stand bytemaster it will share space with other companies of the Propeller Club Barcelona association, to provide visitors with an offer of complementary value proposals within the logistics chain and facilitate networking opportunities between them.
bytemaster will participate in the conference cycle organized by CIMALSA at its SIL booth. Don't miss our presentations on solutions that respond to the latest inquitudes of digital transformation logistics operators. We'll talk about the successful application of Business Intelligence platforms in logistics, solutions for efficient air cargo, and how fleet control enables efficient transportation management.
Don't have your entry to SIL 2019 yet?
Wednesday, 26/06 – 16h - Stand CIMALSA
Success Case: Business Intelligence Applied to Logistics
Javier Alvarez, Business Manager at bytemaster
One of the biggest challenges facing logistics operators today is obtaining relevant information, and in the right time, from the vast amount of data they generate daily. As a result of this need, the team _b first , the ERP logistics operators in the Spanish market, worked with many of its customers to develop a business intelligence module that went beyond the dashboards and focused on the consistency and speed of the data consulted to find i reliable training for the entire organization.
In this presentation, Javier Alvarez, Head of Business in bytemaster paraca _b first project leader, outlines what are the keys to ERP's Business Intelligence module _b first that make it the most robust solution for decision-making in the logistics sector.
Sign up for this presentation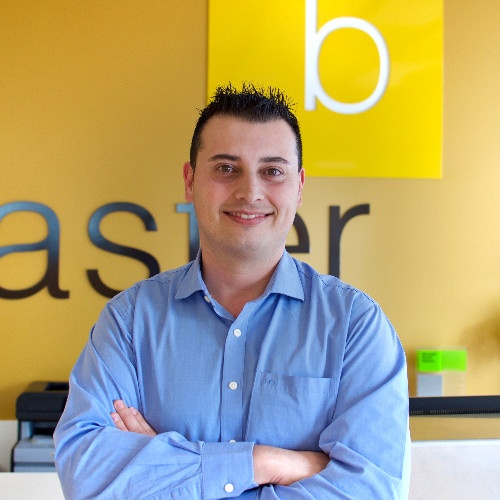 Thursday, 27/06 – 12:30h – Stand CIMALSA
Air Cargo: How to Achieve Digital Efficiency
RODRIGO GUICHÓN, PRODUCT MANAGER AT BYTEMASTER
Air cargo has become very important in freight transport in recent years due in large part to the e-commerce boom. However, this increase in activity has surprised many players in the logistics ecosystem without the right tools to respond to demand efficiently.
Rodrigo Guichon, product manager of _b first In bytemaster , he will speak in this paper on how the digitalization of air cargo operations is the key to the competitiveness of logistics operators. Rodrigo will emphasize what he considers the basis of a competitive air operation: the digitization in bidding, the connection with an agile and secure community system charge, and a robust platform that integrates all these operations and connects them with the rest of the different business areas.
The presentation will continue with the presentation of the AFS platform, the community system charge developed by Portel and GPA, a tool that dramatically improves the digitization of air cargo operations.
Sign up for this presentation
Friday, 28/06 – 11h - Stand CIMALSA
Fleet Control: A tool or a target?
Valentina Salinas, marketing Director at bytemaster
Fleet management has taken on a lot of prominence in recent years, this due to the high availability of sensors and IoT platforms that allow us to obtain great information about vehicles and their routes in real time. However, the urgency of having such solutions has become more of a goal than a tool for many logistics operators. The result: big investments to know the positioning of a truck but without being able to cross automatically with the data of the warehouse.
Valentina Salinas, Chief Marketing Officer at bytemaster , explains how fleet management has to be a tool rather than the objective in the management of ground transport, emphasizing a comprehensive platform that automatically meals fleet data.
Sign up for this presentation
Still don't have your ticket to the SIL 2019?
bytemaster wants to count on your presence in this year's SIL. If you still don't have a ticket, you can download your pass at the following link, courtesy of bytemaster .
Don't forget to stop by, that's for sure.